Medicinal mushrooms have been used in Traditional Chinese Medicine for centuries.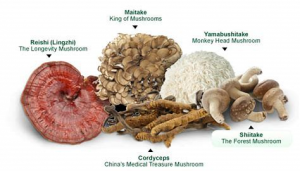 They are recognized by the Japanese FDA as cancer fighting agent when used with or as an alternative to chemotherapy treatments. These Medical mushrooms are slowly being recognized for their medical value in western medicine as well.
Medicinal mushrooms have adaptogenic properties, which means they help "normalize" the negative effects of stress on the body, and help you respond and adapt better. (1).
Adaptogens help lower cortisol levels (the primary hormone released in response to stress). Too much cortisol can wreak havoc on your body when it stays elevated for long periods of time (2).
If you're irritable, anxious, exhausted, and moody on the regular basis, high cortisol levels could be why (3).
On a deeper level, elevated cortisol causes chronic inflammation in the body, which can lead to chronic fatigue, digestive issues, thyroid issues, cognitive impairment, fertility issues, and belly fat gain – just to name a few (4).
Reshi, Lion's Mane, Maitake, Turkey Tails, and Cordyceps have their own unique properties that I have been taking for a many years for overall immune support.
Medicine mushroom is only one of three supplements that I take. They are said to also promote respiratory, digestive, circulatory, cellular, and lymphatic health.
Play it safe and consider supplementing with medicinal mushrooms.