Patricia, I am so enjoying your Chair Yoga Sessions.
Can't believe how just a 30-minute session with you can make me feel so good.
You are the best! We lost power here for a couple of days a few weeks ago but being able to access the classes later is wonderful.
Thanks so much.
Pat Harran
Sagamore Beach, MA
The best medicine for all that ails you
I have been taking weekly Yoga classes with Patricia for over five years.  They are quite honestly the best medicine for all that ails you.  I look forward to them, enjoy them and reap the benefits from them, afterwards.  My body has become much more flexible and strong.  Patricia runs her classes to suit her students level of ability and takes requests.  She is also a great resource about health and well-being.   And finally, she is unfailingly positive and kind.
Arabella Napier, 
Community Coordinator for
EAST, Murray, Yost, FroSoCo, Jerry and Narnia
Residential Education
Stanford University
I sprained my left knee MCL (medial collateral ligament) during skiing 7 weeks ago. After 4 weeks of injury while healing, I asked Patricia if she could help my knee rehabilitation with yoga instead of going to see physical therapist.
Sure enough, she is so knowledgeable at therapeutic yoga that I started to feel better right after the first yoga session. I was amazed how powerful healing of her therapeutic yoga.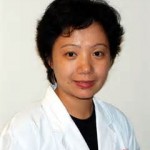 My knee keeps healing while practicing yoga poses that Patricia taught me. I can't wait to go back skiing soon. Thank you, Patricia!
Jenny  Zhenyu Qui,
Ph.D in Acupuncture and Chinese Medicine
Redwood City, CA
http://acupuncturechinamedical.com
"Patricia is an engaging, genuine, and safe yoga instructor who knows the human body, mind and spirit. 
"Her classes are informative and inclusive, whether you are a regular yoga student or not."
Kerry Spears, Pilates Palo Alto
Patricia, I checked out a couple of your videos recently and really enjoyed them.
The core workout was more effective than my pilates class! I hope to utilize more of your videos as I found them very user friendly.
Maryanne Romanowski,
Account Executive
Santa Rosa, CA
Energizing, relaxing, and fun
Patricia Becker brings love, light and joy into the room as a yoga instructor. I've been taking classes with Patricia for 10+ years. She is incredibly knowledgeable and experienced, but also warm, caring and understanding. She is able to work with people from all levels and backgrounds because she can quickly provide modifications and options to make a pose easier or harder, depending on the individual. She truly makes sure everyone feels like they belong and her classes are always energizing, relaxing, and fun.
Colleen C. McCallion
Came out smiling, refreshed, and looking forward to the next session
I went into my first class with Patricia a yoga skeptic and came out smiling, refreshed, and looking forward to the next session! I have attended a regular class with Patricia for a few years now and it is the highlight of my week. Her classes are fun, challenging, and help me to focus on the positives in my life when work starts to wear me down. Patricia brings a warm and calm energy to the room, and keeps the class smiling even in the more challenging poses with her light hearted sense of humor. I would recommend her class to anyone!
Lauren Smith,
Associate Director
Stanford Graduate School of Business
Patience, kindness, laughter
"Patricia led an amazing yoga class for a group of our company's international beginning farmers a few years back.
"Her patience, kindness, laughter and passion made it a very special session for all. I only wish I lived closer to Patricia so that I could continue to learn and grow through her instruction and care."
Lauren Augusta, Founder and Executive Director at the Multinational Exchange for Sustainable Agriculture (MESA)
Inclusive for all abilities
I've been taking Patricia's yoga classes for over 10 years.
She is the best instructor I've ever had.
Her light and spirit are so refreshing and contagious.
Similarly, her style of teaching is inclusive for all abilities and she makes every class fun!
Sheila Sanchez
Helped my chronic back pain
Hi Patricia,
It was nice meeting you yesterday and I really enjoyed your class!
All the back exercise really help with my chronic back pain.
Thank you!
Mason Chow, 
Alternative Format Specialist
Stanford University, Office of Accessible Education
Patricia's yoga classes were one of the highlights of camp
"Patricia asked the
students what we'd like to work on and then designed the class perfectly to fit our needs.    It has been two weeks since that class and I still feel the benefits.   Another thing I love is how Patricia tells the healing benefits of the poses as we do them.  She believes so deeply in the healing benefits of yoga that it is very contagious.   I am keeping my yoga practice daily now…inspired by the two yoga classes with Patricia.
Susan Shimmon,
Happy Healthy Retreats,
Pinecrest Lake, CA.
Started seeing her one-on-one
I was so impressed with an introductory class with Patricia Becker that I have asked for more in depth training to meet my individual needs!  She has so muc
h to offer, go check it out, you won't want to miss this.
Marci Hayden,
Owner and Artistic Director
http://www.rockstonegardens.com/
Patricia has keen insight
Patricia's knowledge is steeped in the macrobiotic guidelines that are plant-based, focusing on eating seasonally and locally. I appreciate her common-sense nutritional recommendations, recipes and ideas. I appreciate her practical and easy to understand approach. I have worked with Patricia for 8 years and continue to enjoy periodic check in sessions. Patricia has keen insight, awareness of new information and solid knowledge about enhancing nutrition and well-being.
I recommend Patricia for people who want to learn about the power of food, be more mindful and have fun with it.
Carol Shane, LMFT
Dear Patricia,
First of all, I would like to let you know that I enjoy your yoga class very much. Thank you.
And second, I am so grateful to you for the advice you gave me four weeks ago and for your time. When I approached you I anticipated that you would suggest a set of exercises to help me cope with inflamed joints, but I received much more. Your advice to restrict consumption of vegetables from the nightshade family did not initially make too much sense, but the result is unbelievable.
I have been seeing the doctor during the last half-a-year, complaining about joint pain and strange psoriartic spots at the joints that and he could not solve the problem. Rather, he told me that I had eczema and that is an non-curable condition. As for the joint pain, he decided to ignore it completely, telling me that we are all getting older. I usually go to the doctor only if I have a serious issue, and this time the problem was getting progressively worse. I followed his advice and tried everything he recommended: steroids, anti-histamines, etc – nothing helped. Now, after I simply restricted the nightshades, the joint pain disappeared, and all of my non-curable "eczematic" spots and discoloration are gone. It is so nice to be pain-free and to have a normal-looking skin.
Thank you so much,
Sophia Chernikova, Ph.D.
Senior Scientist, Department of Radiation Oncology
Stanford University School of Medicine
A teacher with a variety of supportive modes
I've known Patricia Becker for many years in many modes. I first was introduced to her via her expertise as a master macrobiotic chef.  New to this food arena, I and our family found her instructional experience well organized, informative, and encouraging.  Her leadership in this field is encouraging yet humble – two qualities I find very important and productive towards learning and growth.  As a yoga teacher, I find her process to be informative, kind, supportive, and inspirational.  As a student of many many many modes of physical expression for 50+ years, I find it always refreshing to encounter a teacher with a variety of supportive modes towards the body's health, growth, and well-being ~ tinged with humor, spirituality, support, quiet, and kindness.
Nancy Klimp, M.A., M.F.T.