5 Selected Chair Yoga Classes
 * Each Class is 30 minutes
Class 1 ~ Playful Relaxation
Class 2 ~ Potpourri of Stretches & Strengthening
Class 3 ~ Spinal Strength and Health 
Class 4 ~ Hip Mobility Poses 
Class 5 ~ Neck, Shoulders and Face Yoga
The series is selected recordings of Chair Yoga classes I previously taught where I help you promote: flexibility, resilience, strength, balance, strong legs, hip health, core strength, and a supple back. 
Learn and practice a blend of gentle exercises for overall strength, mobility, a good mood
.
Easy-to-follow instructions
What is Chair Yoga? Watch this video!
5 Class Special ~ Only $37
This 5 Class Seniors Chair Yoga Special is easy and convenient way fit into your day. Practice often to improve your physical and mental health
with the low-impact exercises, breathing exercises, stretching poses, and self discovery.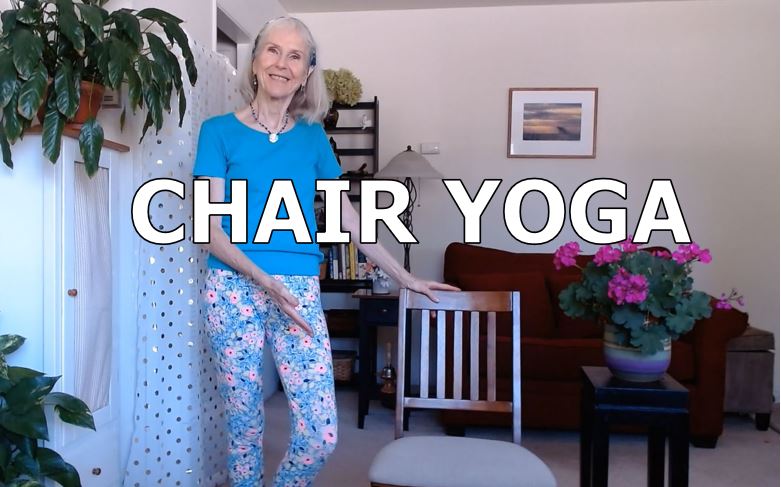 Be Strong and Balanced ~ Special Only $37


Lifetime Access



BUY the 5 classes HERE
Patricia Becker promotes the joys of yoga for seniors with joyful movements.
Chair Yoga is practiced while seated in a chair, and uses a chair for support during standing poses. We use gentle stretches, twists, and poses, to help improve flexibility, balance, and circulation.
I really enjoy Patricia's chair yoga classes. Her gentle guidance about breathing, posture, and stretching helped me, especially when I've spent too much time at the computer.
I have stenosis in my neck and after class I felt fantastic My neck, shoulders and back felt wonderful for days. I can"t believe how just a 30-minute session with you can make me feel so good!
In a half hour every week, Patricia guides us through very effective chair yoga postures that I have found reduce my back pain, increase my resilience, and improve my body posture and my mood!
I signed up for Chair Yoga and after 30 minutes I feel so much better. I liked it so much I asked for private lessons!
And you are invited to join us LIVE on Wednesdays for the 9 Chair Yoga Class Series.  You can ask me questions, share you aha moments and connect with the community.